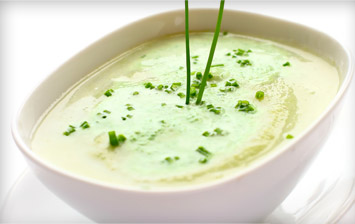 Ingredients
1 cauliflower, cut into florets
45g leek (white portion), sliced
60g butter
1 ½ tbsp flour
300 ml milk
150g grated tasty or vintage cheese
Salt and pepper to taste
Smoked paprika

Method (Serves 4)
Place the cauliflower into a large saucepan with the leek and cook until tender.
Drain off all but 360ml of liquid. In batches, blend the vegetables until smooth.
Heat butter in a saucepan, add the flour and cook for 2 minutes, stirring constantly. Pour in milk gradually, whisking until thickened. Add the vegetable puree and stir through until heated.
Season with salt and pepper. Add the grated cheese, and stir through.
Serve in bowls, with a sprinkle of smoked paprika.