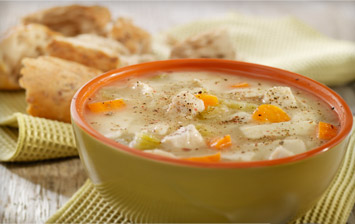 Ingredients
500g chicken thigh fillets
3 large carrots, scrubbed and cut into chunks
2 large onions, peeled and roughly chopped
1 large parsnip, peeled
Handful of roughly chopped parsley
Sea salt
Pepper
375ml cups French onion soup mixed and cut into chunks
2 stalks celery, sliced

Method (Serves 8)
Cut the chicken thighs into pieces trimming off the fat. Place the sliced carrots, onions, parsnip and celery into a food processor and chop into dice, but not too small.
Place the chicken pieces into the Pressure Cooker add the vegetables and parsley, salt and pepper and toss together.
Stir in the soup mix. Pour in the water to Maximum level and seal Pressure Cooker. With the pressure setting on high, allow to cook over high heat until pressure is reached.
Then reduce heat and cook over moderate heat for 25 minutes. Check for tenderness of chicken pieces and adjust seasonings if necessary. Add more fresh parsley, and serve at once with crusty bread.