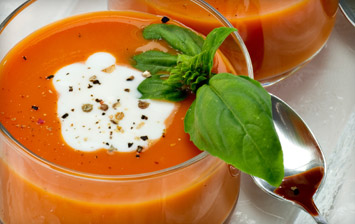 Ingredients
6 red capsicums
2 ripe tomatoes
2 cloves garlic
1 litre chicken stock
1 sprig thyme
2 bay leaves
125ml light cream
Black pepper

Method (Serves 4)
Chop the tomatoes and garlic.
Halve capsicums, discard seeds and core. Grill or roast until browned, place into a plastic bag and seal for about 15 minutes, then chop the flesh, roughly.
Place the capsicum and the tomatoes into the food processor and process until smooth.
Pour into a large saucepan, add the chicken stock and herbs and simmer for 25 - 30 minutes.
Remove herbs, ladle into bowls, stir a little cream into each bowl and sprinkle on pepper. Serve at once.