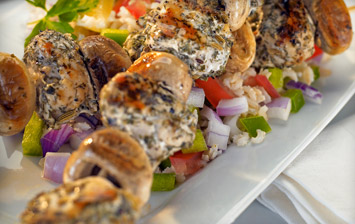 Ingredients
2 chicken breasts, skinned and boned
500g mushrooms
1 tsp dried rosemary
1 tbsp dried parsley
½ tsp dried thyme
60ml lemon juice
2 tbsp white vinegar
125ml non fat chicken stock
1 tsp black pepper
8 x 10 inch wooden skewers

Method (Serves 4)
Soak the skewers in water, then pat dry.
Use a dish with a lid. Mix the rosemary, parsley, thyme, juice, vinegar, chicken stock, salt and pepper in the dish.
Cut the chicken into 25mm cubes. Add the chicken and mushrooms to the dish, and turn till coated. Cover and refridgerate for 4-12 hours, turning occasionally.
Thread the chicken and mushrooms on the skewers. Grill till cooked (5-7 minutes). Discard the marinade.